MRC Issues Draft Ad Verification Guideline Supplement
In New York, the Media Rating Council (MRC) has issued a draft version of a supplement to its existing Guidelines for Brand Safety Ad Verification, specifically designed to address concerns around user-generated content (UGC).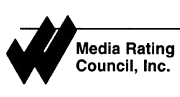 Developed in collaboration with ad bodies the ANA, IAB and 4As, the supplement has been developed to modernize the requirements of the IAB Guidelines for the Conduct of Ad Verification, released by MRC and IAB in 2012. MRC says the supplement offers additional granularity to more fully address contextual classification and brand safety considerations in an era when UGC exists side-by-side with curated content and advertiser messaging in many of the most widely used digital media platforms.
In addition, the supplement touches on many other issues including: new guidance on brand safety considerations specific to mobile app environments; and the establishment and definition of the concept of adjacency as it relates to the proximity of ads to content in a variety of digital environments. It also offers guidance on the appropriate balance of machine learning versus human intervention in making context and brand safety determinations.
Comments on the draft – which can be accessed at https://bit.ly/2ukSODS – should be submitted to rpinelli@mediaratingcouncil.org no later than August 9th. MRC will consider these during the 30-day public comment period, will produce a proposed final version of the supplement for review by its working group, and expects the final version will be issued before the end of Q3.